Sometimes It Just Takes One Person...Say 'No' To Plastic Bags!


In the summer holidays we went camping to a beautiful place called Jervis Bay. Our favourite little town there is Huskisson, known affectionately as 'Husky'.

Whilst we were there Mum decided to buy a few treats from the shop, funny thing was...they didn't give out plastic bags at the supermarket, you had to buy environmentally-friendly re-usable bags. Then we went to the butchers - same story, in fact everywhere we went in Husky we found the same thing; not one shop provided plastic shopping bags!

We thought this was brilliant and wondered who set the scheme up. We thought it would have been the local council (Shoalhaven Council) but when we looked into it after getting back from our holiday we found that it had been the idea of one person...and that person was Matt Cross of 'Dolphin Watch Cruises' (www.dolphinwatch.com.au).



Stormwater drain outlet in Huskisson
- the net catches any plastic or other rubbish before it gets in the sea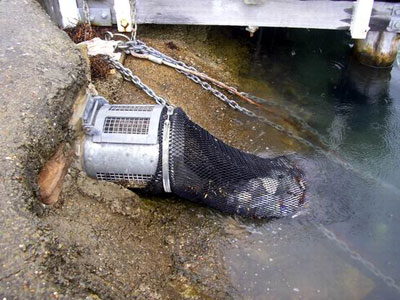 We asked Matt some questions we had about his scheme and here are his answers:

Freya: When did Husky ban plastic bags?
Matt: October 2003

Freya: What things made you decide to try to get them banned?
Matt: I was a resident of Huskisson and grateful and appreciative of this wonderful place we live in. I felt banning plastic bags could be done and was necessary to protect this beautiful backyard we live in ie; Jervis Bay Marine Park and Jervis Bay National Park . I felt strongly that because Huskisson is a tiny village and land and water locked, that we could grow stronger as a 'bag-free village' by the sea.

Freya: Was there any opposition to it or did everyone think it was a good idea?
Matt: I was successful in getting all 92 businesses involved and yes we had all sorts of opposition. But remember, it was just banning plastic shopping bags. You have to start somewhere and cannot from the outset ban all plastic.

Freya: Did any other things get changed because of it (we noticed the netting over the stormwater outlets).
Matt: Yes, lessons learnt from the 'plastic bag ban' has lead to greater community awareness and we teach all tourists a little something to take home with them. The environmental message spreads like a virus.

Freya: Have you got any suggestions for how other people might go about getting plastic bags banned from where they live?
Matt: All town demographics are different; larger towns have large retail outlets, but they too have now joined the plastic bag ban...slowly though. My suggestion to get plastic bags banned from other places is, if you are in a big town, start with one street, or a shopping complex. This sets an example for others to lead; then others will follow.But I must say that making Huskisson a 'plastic bag free zone' wouldn't have been possible without all community and business support. Believe me some were very critical, saying "that just wont work" or "that's a stupid idea". They needed alotta convincing!

In a place like Husky, it's so important to protect the environment. Plastic shopping bags can easily blow into the sea and get caught around or even ingested (eaten) by the dolphins and other marine life which could kill them. We noticed that in Husky, there were nets over the stormwater outlets. This stops rubbish from washing out into the harbour and then out to sea. What a brilliant idea!

Some scary 'plastic' facts:
Australians use 6 billion plastic bags a year!
Plastic bags get blown out to sea where they are eaten by mistake by marine animals like dolphins and turtles. This kills them.
Plastic bags can take up to 1000 years to decompose (break down into harmless tiny bits).
They block drains and waterways.
Thank you very much to Matt Cross for taking the time to answer our questions and an even bigger 'thank you' for being determined to make a difference. Just look at what just one person can do?

Matt is not alone. There are many people who are also trying to do something about the plastic bag problem.
Mr Ian Kiernan who started the 'Clean-up Australia' Campaign has said "Ridding plastic bags from our environment as quickly as possible must become the focus for all retailers."

The 'Clean-up Australia' organisation now also has a 'Say NO to Plastic Bags' campaign. It's great to see so many people going to the shops with their environmental shopping bags. Woolies has even put 'don't forget your enviro bags' signs in the car park.
This is brilliant as we're ALWAYS forgetting to get ours out of the boot of the car but when we see the signs, we go back for them.



Signs put-up in Woolworths supermarket car park to remind
us forgetful, busy types to take our eco-bags out of the car boot!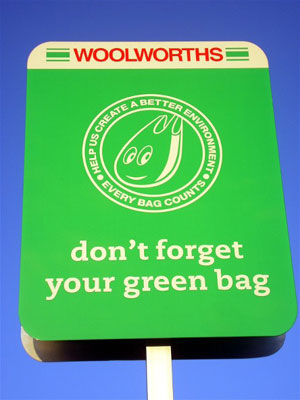 Imogen and I with our eco-bags. We keep them in the back
of our car so we always have them with us when we go shopping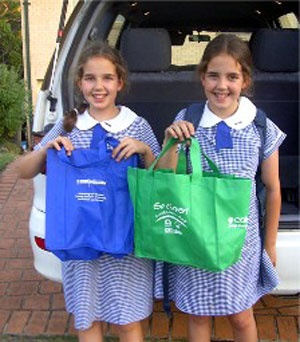 Supermarkets in Australia had been asked to reduced plastic bag use by 50% by the end of 2005. About half the supermarkets didn't even know about the attempt to reduce plastic bag us. However, some stores have done much better than others. Bunnings Warehouse has cut plastic bags use by 73 per cent - that's 21 million plastic bags...wow!!! Well done Bunnings.

Other countries are finding ways of getting us out of the plastic bag habit. In England, Ireland and other countries, they charge a 'tax' on each plastic bag you get from the supermarket. I'm sure my mum would remember our eco-bags if she had to pay for each plastic bag!

In Canada, they have a system of plastic trays which fit onto a trolley into which they can directly pack their groceries...no bags needed at all. The tray goes straight into the boot of their car.

What do you think about a tax on plastic bags? Do you think it would stop people using so many plastic bags if they had to pay 25cents for each one?
Send your ideas to us in an email to: theteam@planetpatrol.info and we'll print them in the next newsletter.