Save the Trees Working Day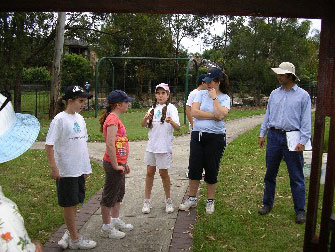 It was a hot day, just before Christmas, yet still 37 people turned-up. This is a brilliant number for the first day. We had people of all ages, but it was especially great to have kids turn up who wanted to help. We found jobs for everyone.

Everyone worked so hard. We had to make sure we wore hats, sunscreen and that kids didn't touch the poison.

It was great how kids didn't necessarily work with their own parents but spread themselves around. We were all looking forward to the last hour when we were going to stop cutting the privet and start planting the trees. This actually was a mistake. The ground was incredibly hard and rocky and planting took far more effort than cutting.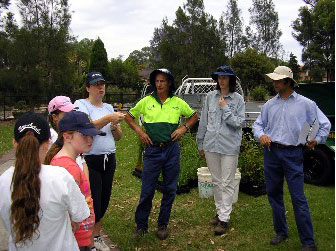 Most people stayed and enjoyed the BBQ. It was nice meeting new people and talking about nature.

Everyone said they'd be at the next Save the Trees day and everytime we see anyone in our neighbourhood now, they often remind us to tell them when we're doing it again..(which will be in the Autumn by the way).

A BIG thank you to the following: Beryl, Conrad, Ken, Mike, Jeff, Edie, Janice, George, David, Natalie, Jenny, Greg, Wendy, Andrew, Stuart, Mason, Michael, Jeff, Amanda, Kathleen, Elizabeth, Vitoria, Maria, Sidnei, Leslie, Sue, Chris, Bethany, Karen, Rodney, Rob, Erika, Harrison, Hugo not forgetting Helen and all the bushcare volunteers of Baulkham Hills Shire Council who collect the seeds, plant them and grow them into the lovely plants that now live in Elizabeth Chaffey Reserve.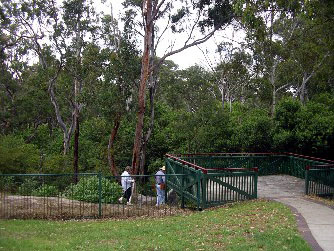 We also want to take this opportunity to say an especially big thank you to Mr Tridgell who has since helped us cut down hundreds of privet trees and Lizzy Bull who is always there to help us plant, weed and generally get grubby no matter what the weather. Lizzy also helps us with our presentations to kids, as does Lauren (Lozza) Wunder and also Natalie for helping us with privet-bashing and also for helping on our information stand at Annangrove.

Want to know how satisfying cutting down privet is? Then join our next working day in Elizabeth Chaffey Reserve. Email us: theteam@planetpatrol.info. We'd love to see you there.

Scroll down to see more pictures of our day...