This story was written by Jessica Shen. Here's a bit about her:

Age: 13
School: Hornsby Girls High School, Sydney
Favourite animal: horse of course!
Favourite subject: Visual arts
Hobbies/interests: reading books, chatting to friends, painting/making stuff(art), HORSES, riding bike, soccer, teasing lil sis, playin piano, stuffin up sista's violin (sumtimes), scaring the hell at of sis.

If I was a world leader I would:
~put an end to whale hunting
~breed endangered wildlife(in captivity)and set them free in their natural habitat
~find more resources for petrol, electricity
~Peace!!!NO MORE WAR
~stop the greenhouse gas creating a hole in the ozone layer





The "Last Wild" Horse




Everybody has at least heard about the "Wild" Horses like the Brumbies of Australia or the Mustangs of the Wild West in America (Don't get yourself confused between feral and wild, Brumbies are feral because they were set wild after being domesticated vice versa for Mustangs). But did you know that the REAL "Last" Wild Horse is the Przewalski's Horse? It is found by the great man himself, Colonel Nikolai Przewalski from Russia.

Yes, you would probably think the Przewalski's Horse is in large numbers and thriving well, but it's actually endangered!! Horses endangered? The horse has been useful to man for ages! It has helped us with farming and agriculture, The Przewalski's Horse is found in Mongolia and has many different names. The Mongolians call them Takhi. 'Mongolian Wild Horse' & 'Asiatic Wild Horse' is sometimes used to.



It is a small, sturdy, strong horse with a Dun (brownish grey- creamy beige) colour with a black line running along the back and a muzzle and belly that is pale. It has blackish stockings or socks and the mane and tail are dark in colour. The mane, which is unusual, stands up like short bristles.

Put up your hand if you've seen one of the episodes of "The Wild Thornberrys" where Eliza and her family travel to Mongolia and she tries to ride a Przewalski's Horse. Okay! You don't have to put up your hand, but seriously, if you've watched it you'd know what I'm talking about.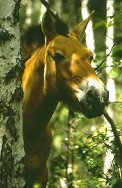 Tip No. 1* NEVER RIDE A WILD HORSE! It is for your own good. Although the Przewalski's Horse are peaceful and docile creatures, they should be left alone. You do not want to have a black eye or a fractured leg from one of those powerful kicks, nor a missing ear, because when they bite it hurts!

However, they always act like family. They live in groups that consist of a leading stallion, mares and foals and some yearlings (1-year-old horse). If the leading stallion goes to take a mud bath, the others will go to, if it goes to graze on some grass the others will follow suit. When the foals are frolicking about, others would want to join in the fun. They are very social creatures and like to groom each other. It is a way of keeping relationship close and friendly.

Since the human population was growing, the horses are forced to leave their territory and by the mid-1990, the Przewalski was extinct, many where captured when they were foals and taking away from their parents. Of course nobody could live without their parents when they are that young! So only 54 foals where captured and survived the trip to Hamburg in 1901-1903.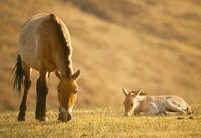 In the late 19th and early 20th centuries, several wild Przewalski's horses were caught and bred in captivity. Thirteen of those horses are the original ancestors of today's captive population.

Today there are about 1,200 Przewalski's horses living in zoos, private preserves, and protected areas in Mongolia. Small groups are gradually being re-introduced into the wild to once again roam the grasslands of Mongolia and are adapting well into their surroundings.

Fun Facts:
"Takhi," a Mongolian name used for the Przewalski's Horse, means "spirit". Horses are central part to Mongolian culture, and Takhi are a symbol of their national heritage. Foals stay with their mothers for 8 to 13 months·

Horse Tips
Don't come towards the horse from the back or it'll freak out and bolt when you pat it or touch it, it needs to see you or it'll bolt.
If you find that you've got mice who take your horse's oats, it is great to have a cat who is a great mouser. That'll stop the mice raiding.

NEVER, I REPEAT NEVER FEED A HORSE THESE PLANTS OR LET THEM ANY WHERE NEAR IT!!!
~ RAGWORT
~ DEADLY NIGHTSHADE
~BRACKEN
~YEW
~CHERRY TREES (BARK OF WILD CHERRY TREES ESPECIALLY)
~RED MAPLE TREES
~AZALEA
~APRICOT TREES
~PLUM TREES
~PEACH TREES
~AVOCADO LEAVES
~ONION LEAVES
~TOMATO LEAVES
~ POTATO LEAVES
~OAK TREES AND ACORNS
IF YOU HAVE THEM IN YOUR PADDOCK OR NEAR YOUR STABLE REMOVE THEM FAST!!! Or your horse will get sick, or maybe even die!!!

Story by Jessica Shen