International Women's Day 2008
Freya and Immie with Rachel Coxon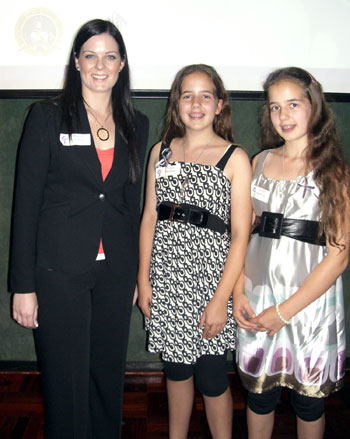 We were pretty excited to receive an invitation to our Shire Council's celebration for women's day.

It was a chance to show that even very young women can contribute. Alastair went too as he's on our Council's Youth Advisory Council and they like to turn up to anything they can.

We were all given purple ribbons to wear (they symbol of equality) and we had drinks and posh nibbles. Then I got to see Rachel (Coxon) - who is a biomedical engineer and really encourages me (we met at the Excellence in Youth Awards), she was on the organising committee and was doing the job of MC. Rachel did a brilliant job of speaking, then the Mayor showed her brilliant memory and managed to recognise half the women in the room. We then had two guest speakers, a lady who seems to have been involved in everything, but especially Guides, and then a man who told us about bushfires(!). We all got to take a lovely pot of pink roses home with us too. Our Shire has now launched a special page for women. You can see it at: www.baulkhamhills.nsw.gov.au/100-Years-of-Active-Women-in-the-Hills.html

So have a look on the website of your local council and see if there's anything you can get involved in.